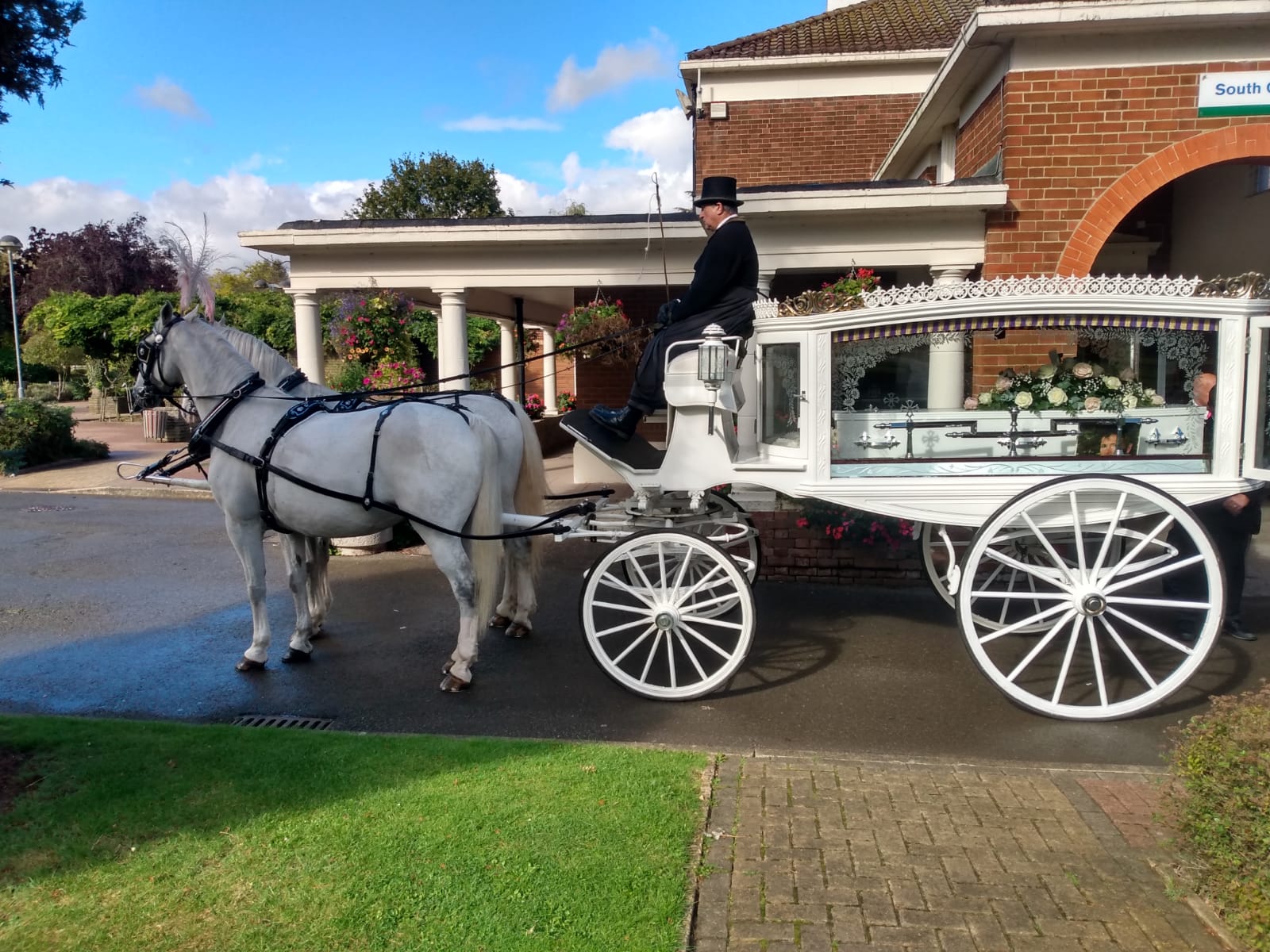 Horse & Carriages, Doves & Bagpipers
For many people, organising a funeral service is about a lot more than just choosing between cremation and burial, or deciding where to hold the service.
---
Horse & Carriages, Doves & Bagpipers
Though a time for grieving, a funeral can also provide an opportunity for remembrance, and to celebrate your loved one's life. That's why the little details of a funeral service can make such a difference – not only to your loved one's memory, but also for those in attendance.
Our aim is to ensure that you and your family have the most memorable experience possible. As such, we provide a variety of traditional services that will give your loved one a special send-off.
---
Funeral Horse and Carriage
Before funeral processions were characterised by black hearses, a horse-drawn hearse took the coffin to the funeral service. This traditional method of transportation is still used by many families today to pay tribute to the traditions of the past, and recreate a sense of elegance and poise for their loved one's last farewell. We'll even provide your family with a horseshoe memento to mark the day.
Some useful questions to keep in mind prior to organising a funeral horse and carriage might be:
Do I want black horses, white horses, or a mixture of both?
Do I want my funeral horses to wear plumes (feathered headdresses) for a more authentic and traditional aesthetic?
Do I want my funeral horses to come in a pair, or in a team of four?
Is my home more than seven miles away from the place of the funeral service? Because a funeral horse and carriage will move far slower than a motorised hearse, we recommend for the family's comfort that the procession be no longer than this distance. If the start of the journey is further than this, the horse-drawn hearse could meet the funeral procession en route for transfer for the last part of the journey.
Our elegant horses will travel from home on their beautiful Essex farm, before returning to their stables in a horsebox at the end of the day.
---
Doves for Funerals
Doves have a long association with funerals and the passing of the people we love. In many cultures, the act of releasing white doves for funerals symbolises the onward journey of the spirit. However, regardless of any religious or spiritual connotations, releasing doves can be a poignant yet uplifting tribute to a loved one.
The releasing of doves can even be a positive way to engage and involve children in the funeral service. Funerals can often be a confusing and emotional time for children, and witnessing or being involved in the releasing of funeral doves can help them to process and deal with the experience.
Even if your funeral service is not a religious one, doves often provide mourners with a sense of comfort and peace. Some people even choose to release the doves themselves, feeling some connection to their loved one as they do so. We offer a small feather in a bag after the service as a memento for your family.
Some useful questions to keep in mind prior to organising doves for funerals might be:
How many doves do I want to release? We can provide you with several doves, or just one depending on your preferences.
Do I want to release the funeral doves myself, or pass on the responsibility to a dove handler?
Do I want the funeral doves to be released by hand or from a cage? Cages are often recommended if a child will be releasing the doves, as they are easier for them to handle.
Once your funeral doves have been released, they'll fly back to their beautiful home in the Essex countryside.
---
Funeral Bagpipes
Music is an incredibly important aspect of a funeral service for many people. It has the power to set the tone of the day and engage us emotionally, so it is understandable that families will want to ensure they are making the right choice for their funeral music.
Bagpipes, with their rich yet melancholy tone, have been become one of the instruments synonymous with remembrance and mourning. Though they are often used at the funerals of soldiers, firefighters and state figures, the magnificent sound of funeral bagpipes can be used by anyone to big their loved ones farewell.
Your family does not have to be Scottish to have one of these specialist musicians grace a funeral with their presence. Bagpipers have a deep reverence for the power of their music, and appreciate the chance play beautiful traditional laments at the head of a hearse and limousines.
Some useful questions to keep in mind prior to organising funeral bagpipes or music might be:
How many bagpipers or musicians would you like during the service?
Would you like different musicians to play at different parts of the day?
Did your loved one have a favourite song or piece of music you would like the musician to play?
We also regularly arrange many other types of musicians on behalf of families who wish to add a musical touch to a funeral ceremony. We've organised singers and musicians across various genres and styles, including organists, choirs, gospel singers, soloists, harpists, jazz bands and more. Whatever your loved one's personal taste, we will do our best to create the perfect musical farewell.